View Alerts
LiveNX displays all alerts in a real-time fashion. Go to Tools > View Alerts.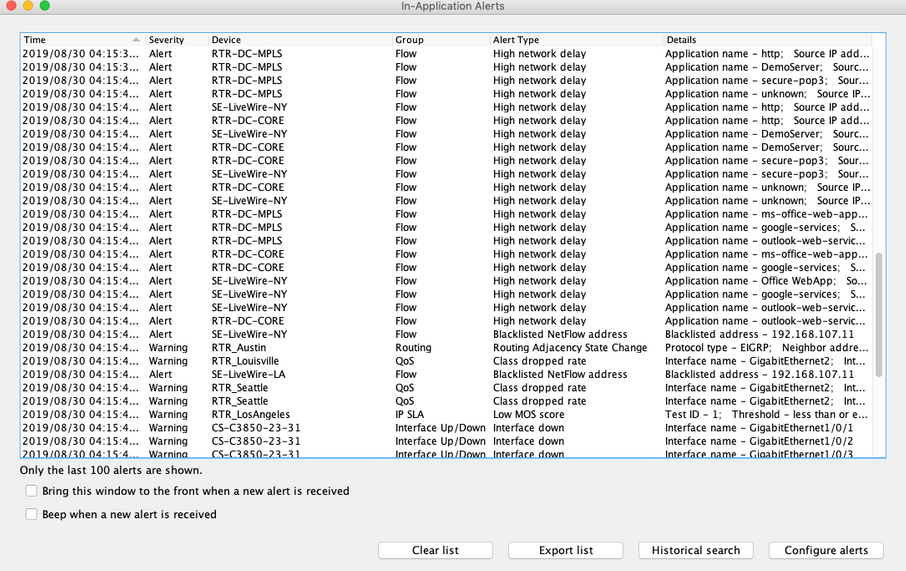 The In-Application Alerts window retains the most recent 100 alerts and displays them with the most recent at the top of the window. Alerts no longer pertinent can be removed by selecting the alerts and either pressing the Delete key or right clicking and choosing Remove Selected Alerts. Fields are:
•
Time – time of the alarm
•
Severity – choices are Emergency, Alert, Critical, Error, Warning, Notice, Info and Debug. Default is Warning (severity choices are covered in the following Configure Alerts section)
•
Alert Type – alert type definitions and thresholds are covered in the following Configure Alerts section
•
Details – provides additional details about the alert including cleared status, interface name, and threshold violations.
Enable the check box to bring the window to the front when a new alert is received or to beep when a new alert is received. The default for both is disabled.
•
Clear List – clicking on this button immediately clears the In-Application Alert window
•
Export List – allows the user to store the alert information in a .csv format
•
Historical Search – provides the user with historical and sorting capability for the alerts
•
Configure Alerts – allows user-defined thresholds and alert severity definitions
Both the View Alerts and Historical Alerts (see next section) can drill down to a time series report specific to that individual alert. In order to access the report, right-click on the alert in question and select Open Report. A time series report encompassing the previous and next thirty minutes from the time of the alert will be generated.